The Future Crops of Tokenization: An Interview with Darya Novgorodkina, CEO of AgroGloryTime
The ongoing events around Ukraine have not left the crypto community aside. While projects worldwide voiced their support for the Ukrainian nation, we've reached out to the company that goes on running their business within the country.
Today's speaker, Darya Novgorodkina, runs a Ukrainian-based agricultural holding AgroGloryTime as a CEO. The company didn't pause its business and is now working on its upcoming DAO and the native token, AGTI.
Please tell us how long you have been involved in the agricultural business?
Well, my journey with AgroGloryTime began in 2015. With my management education under the belt, I was hit by the fact of how few really successful projects you can find in Ukraine. I had no doubt how possible it was to achieve unprecedented profitability for the agricultural sector, with high capitalization per 1 ha of land and productivity. Especially with the proper organization of the production process, through investment and innovation. And if we look at the results, the AgroGloryTime team is doing quite well.
So you joined the team when the business was already running?
Yes, that's true. In its current condition, the company has existed since 2001, when my partner Pavel Drobyshev purchased the former state farm plant named after Shevchenko. At that distant time, the enterprise was a sad sight. However, it still had its most important asset – the perpetual right to use 2,000 ha of land on a strategically and logistically key region – the border of Romania, Hungary and Ukraine. Over the next few years, Pavel invested about $10 million of his own and over $150 million of raised funds. These investments allowed to build a modern cognac factory and launch a full production cycle – from growing grapes to retailing sales of cognac.
However, now you have switched over to vegetable farming. What was behind this decision?
We studied the cognac production process in great depth – from processing technology to recipes. Our technologists strived to combine traditional methods with the industry's most cutting-edge technologies. And the result exceeded all expectations. The taste was excellent – many times we ran blind restaurant tests to compare our cognac with Martel and Hennessy on a bet…
Still sounds like a success story… Did something go wrong?
It turned out that the production of authentic cognac was initially on the verge of profitability. But when Northern Cyprus, for a bribe, forced the Council to open the Ukrainian market to wheat alcohol with dyes, there were just two options left – to stop the cognac business or pour counterfeit. The latter way was much cheaper, while it was hard to explain to the consumers why cognac of a similar star rating with a similar certificate cost double.
We had to make a tough but principled decision. Here's why we switched to vegetables, which turned out to be much more profitable and calm. The only thing missing was the resource. By then, we had a great experience in working with banks – actually, we took and returned back $20 million for setting up cognac production – we realized that this was a self-destructive path. So we opted for the direct investments attraction, relying on various internally developed schemes. But this is no longer a story, but a reality…
Please share some more details on alternative ways of attracting funding? How did you find a solution that matches the scale and ambitions of your business?
We've tried quite a lot of methods and suggestions for over 20 years of the latest history of our company. Two things remained unchanged – dealing with investors directly and our desire to ensure the highest yield. Since only win-win solutions can guarantee development and long-term investment inflow.
By 2020, we have developed our own direct financing schemes, which allowed us to pay investors up to 100% per annum, while successfully developing our enterprise. They are all described on our website. However, the war outbreak clarified the necessity of introducing even more secure and innovative ways to acquire investments.
So here's why you come up with an idea to empower your business with blockchain solutions, right?
Exactly! Blockchain opens up a magnificent prospect for our company. The land area we manage has close to unlimited investment potential, therefore we set high standards for the tools we offer to our investors. In accordance with our vision, AGTI, the native token of the upcoming AgroGloryTime DAO, has to be backed with real assets and compliant with the regulatory requirements.
Sounds reasonable. What was the way through?
Let's have a step-by-step tour. First, is the legal security. We tied AGTI to the AgroGloryTime stocks, so any investor with a portfolio of over one hundred thousand AGTI can freely claim a certain number of company's shares in exchange for their digital assets. The token emission is registered and controlled by U.S. Securities and Exchange Commission (SEC). It's hard to imagine a better legal background.
Next, the token collateralization – AGTI is backed by the land assets. This significant area has perpetual usage status, therefore it will never be sold or alienated. As Mark Twain once said, "Buy land, they're not making it anymore".
Number three, is the token price increase. The projects launched by AgroGloryTime pump its market value and capitalization. I mean those greenhouses, fish farms – all sorts of infrastructure we build using the raised funds. The cost-effective infrastructure leads to the increase of company capitalization, which is binged with AGTI market value.
And last but not least – the profitability and annual interest. What sets our financial model apart from the competition is the interest paid by the company. We pay out quarterly in stablecoins, so the lenders are free to spend their profit or, say, swap it to the fiat currency of their choice. Every cent raised from the token sale is wisely invested, and therefore brings profit.
As your whitepaper states, the company guarantees a minimum of 25% annual return for investments in AGTI. Also, I see you plan to increase the selling price as you get more investors. Isn't that a threat to your model in terms of AGTI profitability drop?
Not at all! Imagine, even those tokens purchased for $3 will benefit their holders by at least 10% annually. And then, in just a few years, the yield will go up to 100% due to the token's price growth, as I explained earlier. Of course, we don't talk about a tenfold profitability increase in the next few days, like some projects and ponzis do. AgroGloryTime value can't increase endlessly because of the food market's capacity and several other factors. Although, the limit is yet too far, we are confident in what we offer.
And you know, we offer AGTI at a hundred times lower price now.
As far as we've touched on risks and showstoppers, I can't help but ask the obvious question. How did the war affect your business?
Transcarpathia is one of the most protected regions in Ukraine. We are far away, "separated" by the mountains, and we have no military, industrial or oil infrastructure. Even railways are far from our land. Due to several significant factors like the temporary occupation of Kherson, a decrease in imports from Turkey, as well as hundreds of thousands of refugees in the region, the food prices are 6-8 times higher than last year. Although we need peace and victory, and not such advantages, now, we are sure, there are all the conditions for a start. After the victory, the European market is just next to us, and it is completely open. I have just come back from Hamburg, where we signed several promising contracts for our products. European partners appreciated our quality!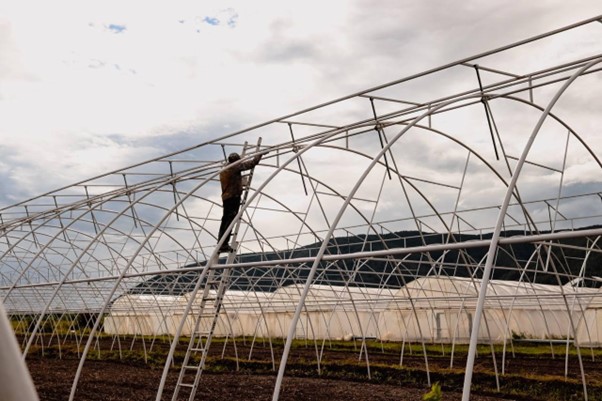 What would you advise the readers as we conclude our interview?
Those who want to save money from inflation and make it work should invest it in a transparent, audited and profitable project. Those who want to develop the economy of Ukraine without taking excessive risks should invest in reliable Ukrainian projects in safe geographic locations. Those who want to support essential values that are currently missing should invest in agriculture. Those who want legal guarantees should look for a highly secured project. Those who want to join a world-level project, backed with international capital, high profitability and the absence of stupid banking restrictions, should look for a serious crypto project.
Do you think I should continue?
Gain a broader understanding of the crypto industry through informative reports, and engage in in-depth discussions with other like-minded authors and readers. You are welcome to join us in our growing Coinlive community:
https://t.me/CoinliveHQ