With Crypto Prices Going Down, Are Roboape (RBA) And Dogelon Mars (ELON) Worth A Buy?
Today's cryptocurrency plunge has stunned countless crypto enthusiasts as various cryptocurrencies saw a very high percentage decrease in value. However, Roboape (RBA), a new meme token on the block still in its presale stage, is still unaffected by the bear market.
Roboape (RBA)
RoboApe (RBA) is a new coin ready to enter the crypto world. It's built on the ERC-20 network and offers fantastic benefits to users as it focuses on improving their lives. RoboApe (RBA) Token is considered a visionary meme token that tackles economic restrictions, making growth possible via sustainable community development.
The users who want to get a transaction done on the RoboApe platform are charged a certain amount, and this fee is then split in half; 50% of it is burned, while the other 50% goes directly to RoboApe (RBA) holders. Long-term holders of the RoboApe cryptocurrency are eventually rewarded.
The RoboApe (RBA) presale accepts cryptocurrency, including Ethereum, XRP, BNB, BTC, and many others. The RoboApe is scheduled to launch on August 29th, 2022, and the project's presale started on May 17th, 2022. The RoboApe supply amounts to 900 million RBA tokens.
The RoboApe (RBA) network plans to let users participate in major NFT trading and minting events. RoboApe also focuses on fixing the lack of player incentives currently common in eSports. It plans to use its unique transparency system to level the field of play as the RBA token becomes a payment tool.
Users will have the right to vote for or against proposed upgrades and changes before approval. Users that can hold the token for a long time will be rewarded, so this will motivate many faithful investors to stick to the project.
Dogelon Mars (ELON)
Dogelon Mars (ELON) is one of many Doge-themed crypto tokens. It was launched on April 23rd, 2021. Dogelon Mars (ELON) is an ERC-20 token built on the Ethereum blockchain. Its crypto team describes it as a fair universal, interplanetary currency. Dogelon Mars (ELON) is a character that stars in a comic series for sale as NFTs that can be bought using Ethereum (ETH).
Dogelon Mars speaks of itself as a project that aims to reverse the damage done by crypto scammers. The Dogelon Mars (ELON) community is said to donate ELON tokens to victims of scams. It can be purchased on Uniswap and traded for other cryptocurrencies on that exchange. Many holders simply save it in a blockchain wallet, and some will donate tokens to victims of crypto scams to help fulfil the mission of the community. The team announced plans to expand Dogelon Mars (ELON).
Monero (XMR)
Monero (XMR), launched in 2014, is an open-source cryptocurrency that adopts confidentiality policies. Monero (XMR) is both decentralized and private.
Monero's (XMR) blockchain is intentionally designed to be opaque. This makes transaction details, such as the sender and recipient's identity and the total amount of every transaction, anonymous by concealing the addresses used by participants. Its technology allows all transactions to remain 100% private and undetectable.
Monero (XMR) is an excellent option for beginners and people who don't want to invest lots of money to start mining.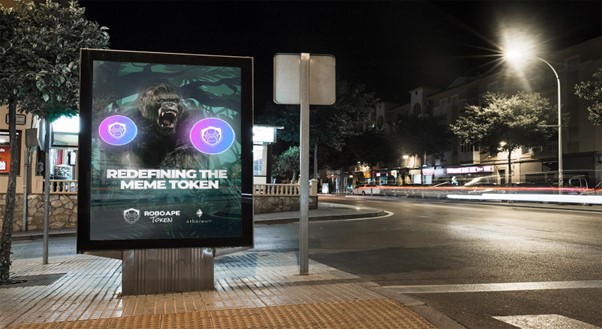 Conclusion
In the recent light of the cryptocurrency plunge today, crypto enthusiasts have found it challenging to identify crypto coins that will stand out and potentially expand over a short period. However, RoboApe (RBA) is seemingly a good buy with excellent growth potential as it is still in its presale stage.
For more details on the RoboApe (RBA) token:
Join presale:https://ape.roboape.io/register
Website:https://roboape.io/en
Telegram:https://t.me/ROBOAPE_OFFICIAL
Disclaimer: This is a paid release. The statements, views and opinions expressed in this column are solely those of the content provider and do not necessarily represent those of Bitcoinist. Bitcoinist does not guarantee the accuracy or timeliness of information available in such content. Do your research and invest at your own risk.

Gain a broader understanding of the crypto industry through informative reports, and engage in in-depth discussions with other like-minded authors and readers. You are welcome to join us in our growing Coinlive community:
https://t.me/CoinliveHQ