Top 4 Avalanche Ecosystem Tokens Below $70 Million Market Cap to Watch in 2022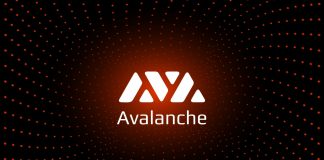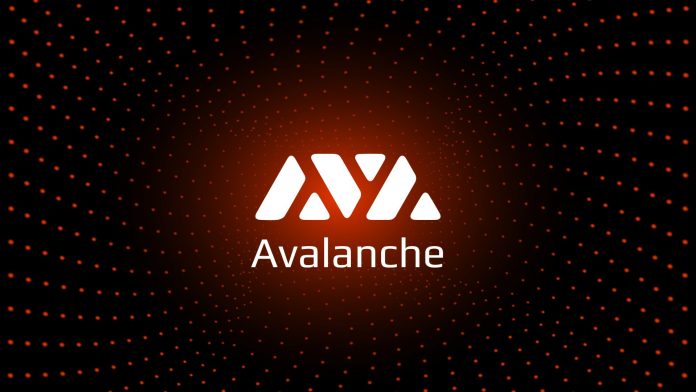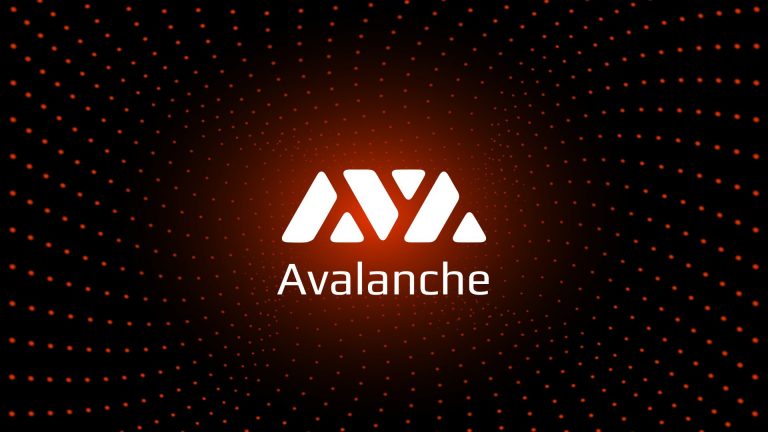 Avalanche (AVAX) is an open-source platform used to develop decentralized applications (DeFi & DeFi 2.0) and business blockchain deployments in a single, highly scalable ecosystem.
Avalanche was the first decentralized smart contracts platform with nearly instantaneous transaction finality. The Avalanche blockchain uses smart contracts, like Ethereum does, to support a number of blockchain applications, and $AVAX is its native coin.
$AVAX is a fundamental unit of account among blockchains in the Avalanche network and is used to pay transaction processing fees and secure the network.
The Avalanche blockchain can handle 4,500 transactions per second. It intends to be quick, adaptable, safe, reasonably priced, and widely available. The Avalanche ecosystem is one of many token platforms for high-quality projects, and some other crypto coin ecosystems include Solana, Tron, BNB Chain, and much more.
We are considering the Top 4 Avalanche Ecosystem Tokens Below $70 Million Market Capitalization, sorted from lowest to highest.
Orion Protocol (ORN)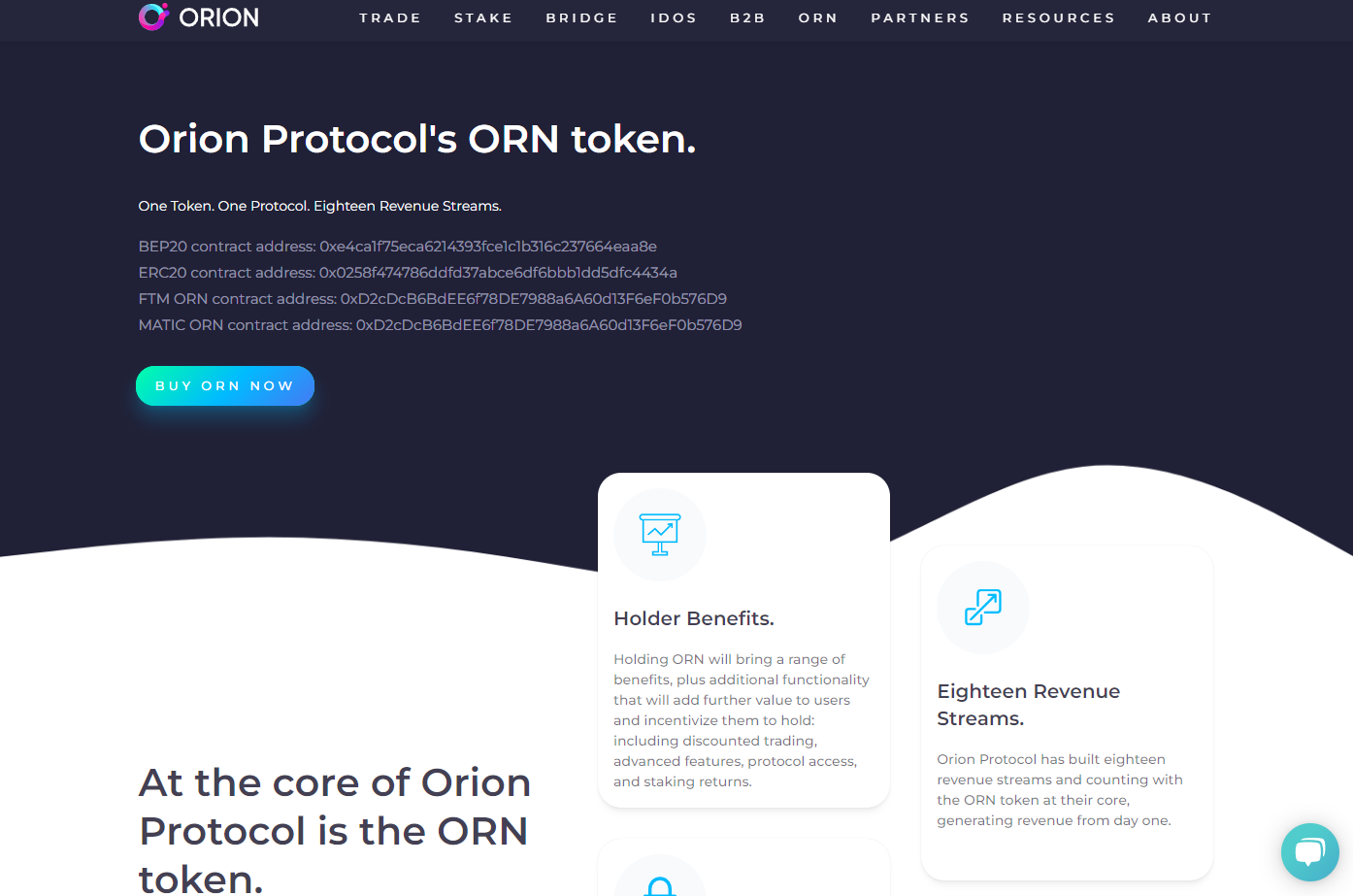 Market Cap – $40,142,391
Price – $1.18
The Orion Protocol was created to combine the liquidity of many cryptocurrency exchanges into a decentralized platform that offers a single, non-custodial gateway into the whole market for digital assets.
Orion intends to address the challenges involved in conducting lucrative transactions due to the lack of liquidity on most crypto exchanges. Both centralized and decentralized exchanges share this characteristic. To address this, Orion has combined the order books of many exchanges into a single, straightforward terminal.
The Orion Protocol aims to lower the risks connected with using numerous exchanges while simultaneously assisting consumers in getting the highest returns on their investments.
The Orion Protocol works by gathering the available liquidity across several cryptocurrency exchanges and exhibiting it in a single, all-encompassing API. This API streamlines and merges many order books for user-friendliness.
Additionally, Orion Protocol provides a portfolio management tool that automates asset management, enables users to set alarms for opportunities, and enables users to monitor and document their activities across exchanges.
In addition, Orion offers a marketplace where users can easily access and buy decentralized apps (DApps).
If you are interested in buying, selling, or trading $ORN, you can do so on the following top exchanges: Binance, BKEX, MXC.com, KuCoin, Uniswap (V2), and others.
Aleph.im (ALEPH)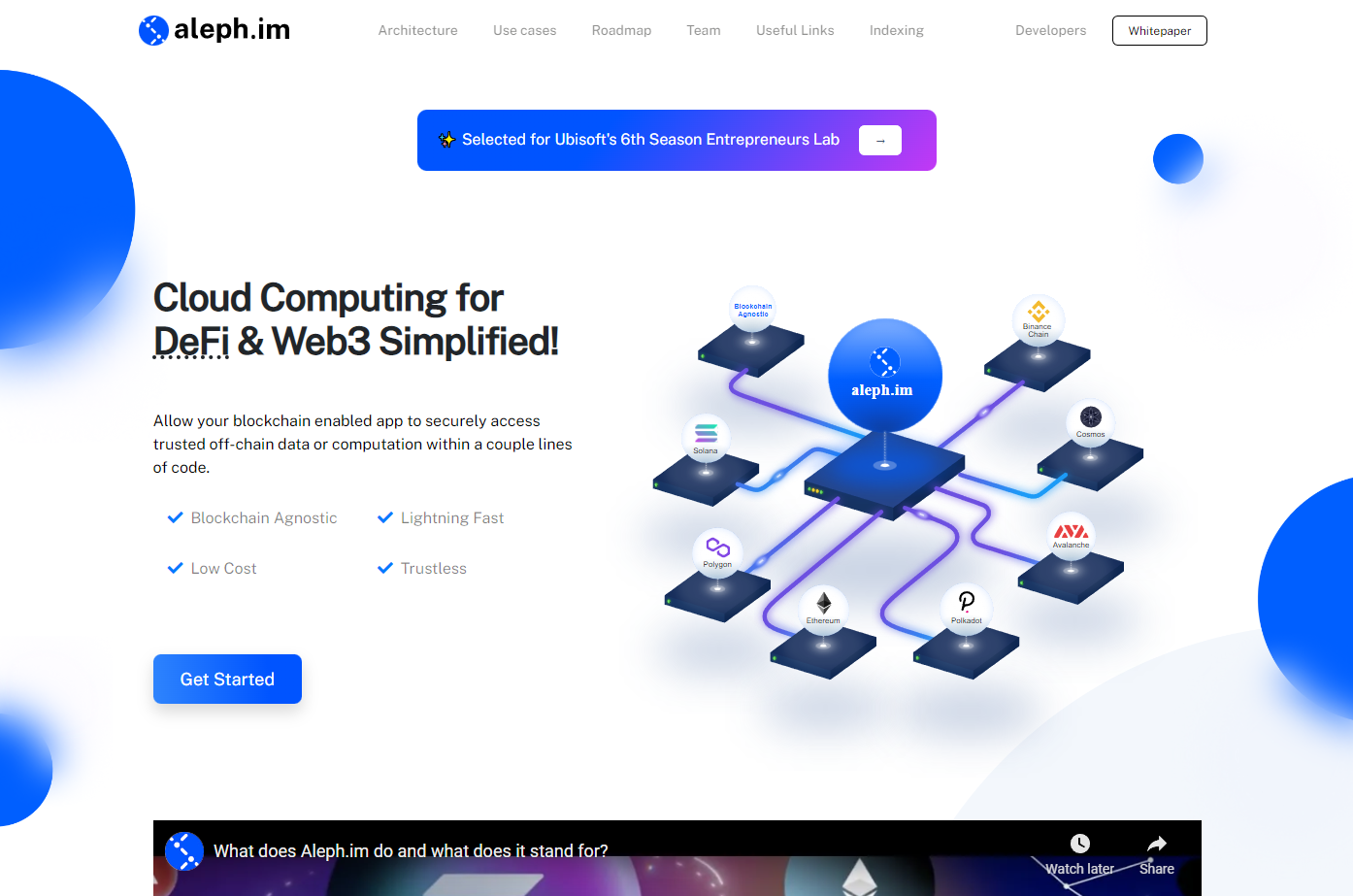 Market Cap – $53,765,934
Price – $0.2601
A decentralized database, encompassing file storage, computing, and a decentralized identity (DID) system, are all features of the open-source cross-chain network Aleph.im. The main goal of Aleph.im is to assist decentralized apps and protocols in removing the centralized components from their stack to achieve a completely decentralized architecture. Aleph.im can be compared to a decentralized version of AWS or Firebase.
Aleph.im's primary goal is to boost the DeFi ecosystem.
A unique combination of off-chain and on-chain decentralized technology makes up Aleph.im. Off-chain, its decentralized network is only accessible through blockchain networks. This makes it possible for crucial aspects like security and cutting-edge crypto-economics.
Numerous popular blockchain projects, including Ethereum, Polkadot, Cosmos, and BinanceChain, are already Aleph.im compatible. This makes it possible for any project developed on these platforms to incorporate our decentralized database and file storage.
The utility of the ALEPH Token includes

Staking Token –

collateral used to secure the network

Reward Token –

for staking or running nodes, for providing cloud services

Payment Token –

paying for storage, computing, and synchronization services
$ALEPH is available for trading on many top exchanges like Uniswap, Gate.io, MXC, Kucoin, Probit, and others.
Bifrost (BFC)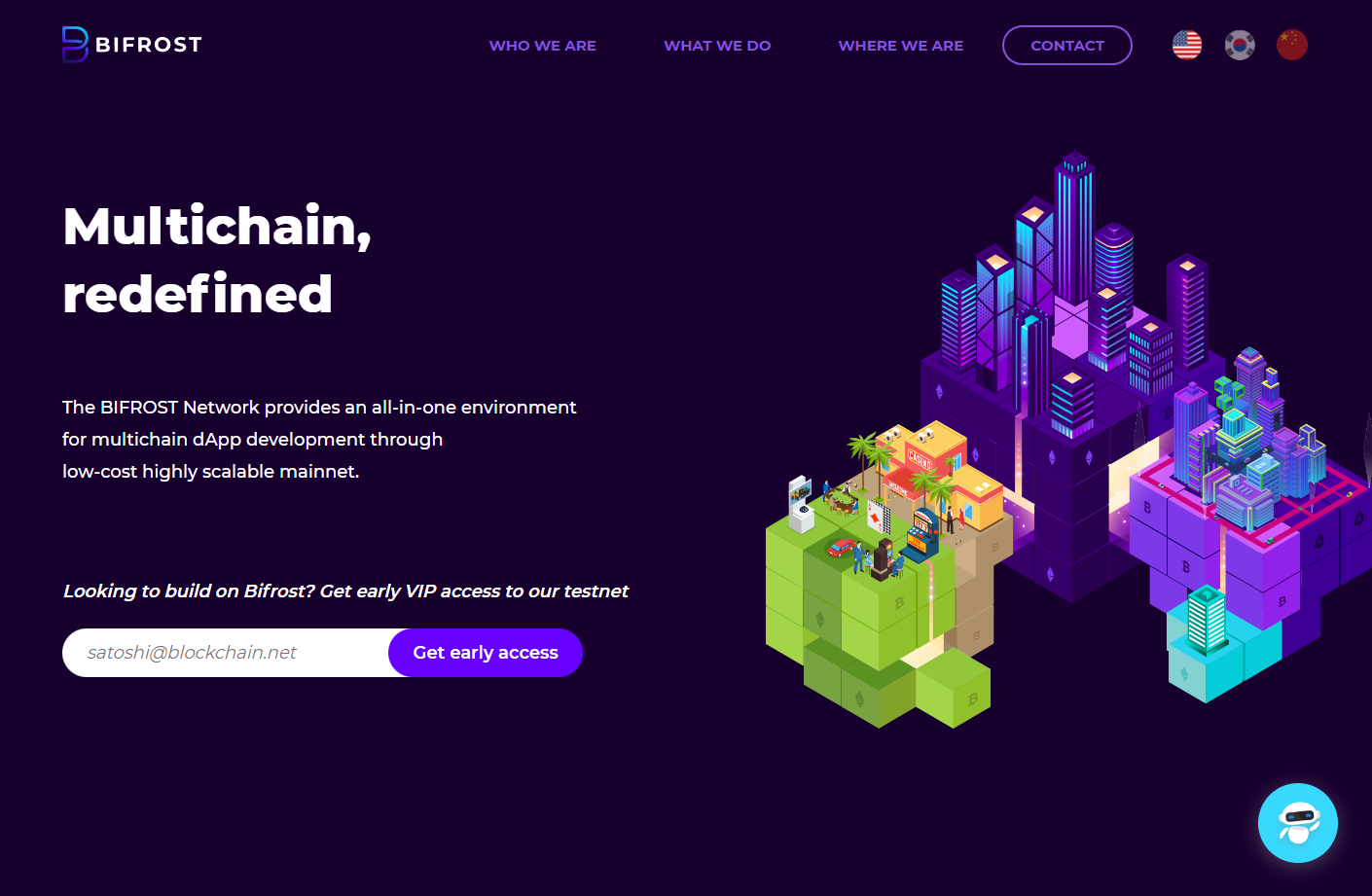 Market Cap – $59,236,266
Price – $0.05538
Decentralized Applications (DApps) can be built using the Bifrost multichain middleware platform on several protocols. With Bifrost, developers are not limited to a single blockchain and may combine the finest protocols to create DApps that are significantly more scalable and versatile.
Developers can create smart contracts for many blockchain technologies in a single environment with Bifrost. Bifrost will translate, compile, and deploy the code into the target blockchains all at once after they have just chosen the target blockchain for each component of the code. As new and better protocols become available, developers may efficiently operate their DApps and even alter the target blockchain.
The many parts of Bifrost enable smooth communication between all blockchains.
You may use the functionality of each blockchain directly because it functions with several blockchains without the need for additional abstraction layers. Because of its adaptability, you can use the various blockchains ideal for your needs.
As the blockchain industry develops, interoperable blockchain services become more valuable. On Bifrost, you may create services with limitless combinations and levels of interoperability right from the ground up.
$BFC is available for trading on some top cryptocurrency exchanges like MEXC, KuCoin, Gate.io, Upbit, and Hoo.
Trader Joe XYZ (JOE)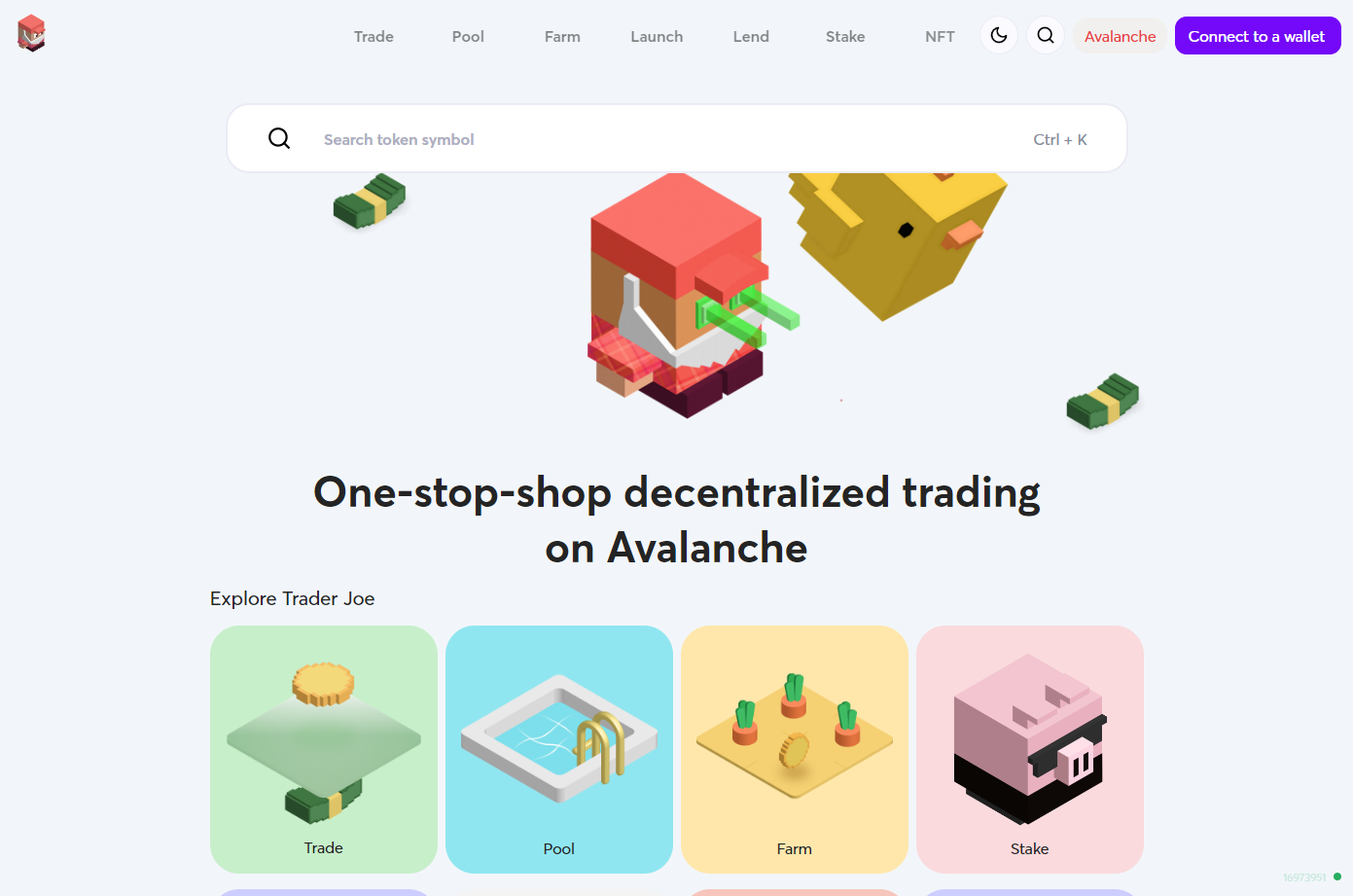 Market Cap – $69,457,486
Price – $0.2421
The native Token of Trader Joe is called Trader Joe XYZ (JOE), a decentralized exchange (DEX) running on the Avalanche (AVAX) blockchain that provides DeFi features like yield farming, trading, and staking.

Since its introduction in June 2021, the exchange has grown significantly, bringing in over $4 billion in total value locked (TVL). Trader Joe asserts that it prioritizes innovation, speed, and safety and adopts a community-first philosophy.
It seeks to integrate new goods while maintaining security and offering a one-stop DeFi experience. Trader Joe has developed an ambitious strategy with a growth-oriented focus on token-holders to accomplish this. The JOE token will be collateralized, better staking, non-fungible Token (NFT) exchange listings, and leveraged trading.
Trader Joe offers a user-friendly design, all the features of a contemporary DEX, quick and inexpensive transactions, and all the functionality. Users can contribute liquidity and receive JOE ($JOE) as a reward token by participating in one of its yield farms. JOE can then be staked and used to vote on governance proposals.
$JOE is currently trading on top cryptocurrency exchanges like Binance, OKX, Bitget, MEXC, and FTX.
Final Thoughts
The Avalanche ecosystem has great potential and would tend to be the most attractive cryptocurrency. It's emerging as a highly dynamic and vibrant force.
Avalanche is one of the few blockchains that can scale without endangering decentralization. Its potential for interoperability with many blockchains is limitless. This will be why we are putting out tokens under the ecosystem that still has much room to grow, always DYOR!
Disclosure: This is not trading or investment advice. Always do your research before buying any cryptocurrency or investing in any Avalanche ecosystem tokens.
Follow us on Twitter @nulltxnews to stay updated with the latest Crypto, NFT, AI, Cybersecurity, and Metaverse news!
Image Source: kviztln/123RF
Gain a broader understanding of the crypto industry through informative reports, and engage in in-depth discussions with other like-minded authors and readers. You are welcome to join us in our growing Coinlive community:
https://t.me/CoinliveHQ