Top 3 Metaverse Crypto Coins Below $2 to Buy During This Bear Market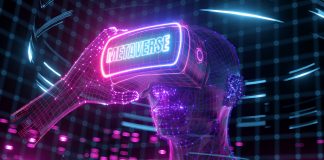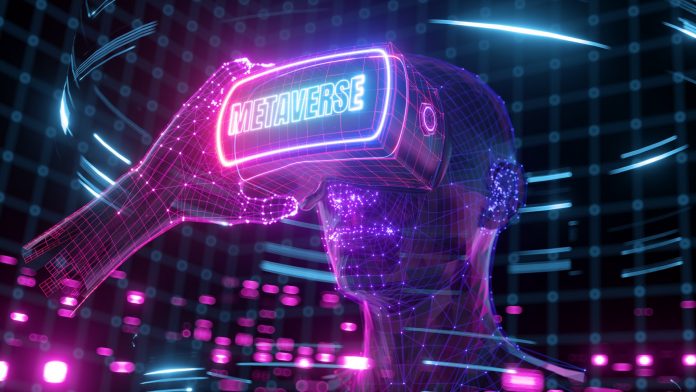 The global cryptocurrency market is nearing its two-year low, currently valued at $856 billion. Bitcoin and Ethereum continue to struggle with bearish momentum as most crypto assets significantly decline. The upside to the current bear market is the fact that it now makes for an excellent opportunity to purchase undervalued projects that could see substantial price growth once the tide of the market turns since, after a bear market, a bull market is inevitable. Today we look at our pick of the top three Metaverse crypto coins with a unit price below $2 to buy during this bear market.
Note: The list below is ordered by the unit price of each project, lowest to highest.
#3 Decentraland (MANA) – $0.8199
Market Capitalization: $1.5 billion
Launched in February 2020, Decentraland (MANA) is an Ethereum-based, Polygon-compatible project currently the top-most-valued Metaverse in crypto. Boasting a market capitalization of over $1.5 billion, Decentraland is the most popular project with the most users in its Metaverse.
Decentraland features a fully functional 3D environment as an in-browser experience and a desktop client for those looking for a high-quality immersive experience. Decentraland's Metaverse is built with the Unity game engine, making it perfect for running on many devices, including low-end laptops and high-end desktops.
Decentraland offers dozens upon dozens of places to visit, ranging from various play-to-earn games to clubs with unique music to hang out with your friends. Decentraland has one of the most robust communities and enables users to purchase virtual real estate in the form of NFTs and customize their characters by buying wearable NFTs on the marketplace.
Users can also earn free NFTs by participating in various activities and promotions for those looking to expand their current NFT collection on Ethereum. Decentraland also features Decentral Games, a virtual casino enabling users to earn real-cash rewards for playing.
If you want to purchase virtual real estate in Decentraland, you can visit the official OpenSea collection. The current floor price for a Decentralnad plot of land is 2.45ETH (roughly $2.45k). That's some of the lowest prices you will see as plots of land in Decentraland sold for upwards of $10k only a few months ago.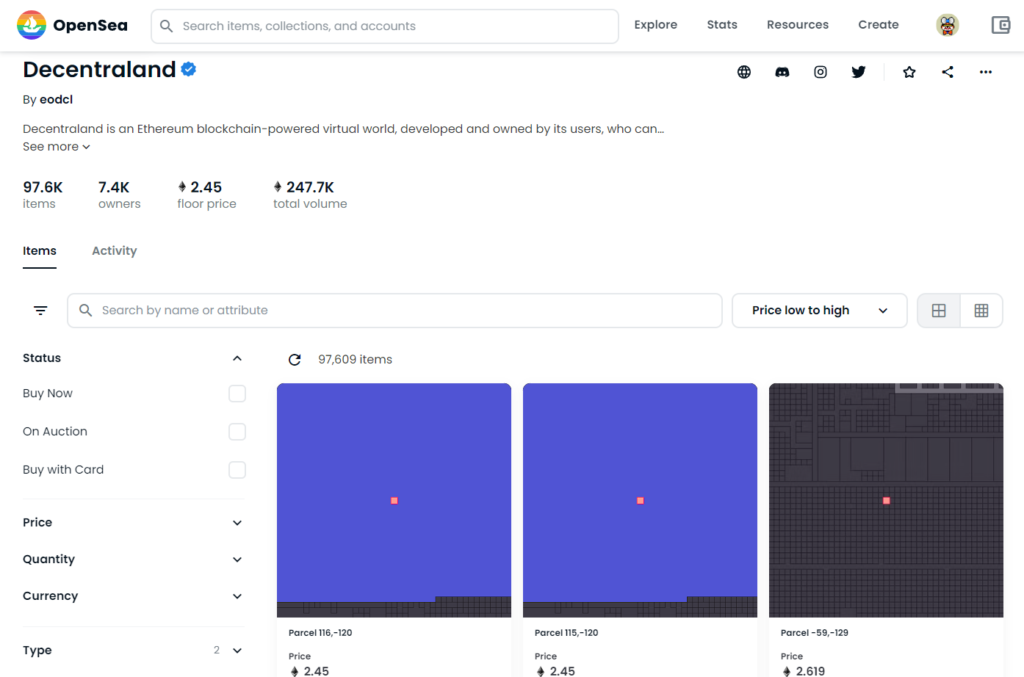 Now is an excellent opportunity if you've been meaning to purchase a plot of land in the world's most popular crypto Metaverse.
Another way to invest in the project's future is the traditional option of buying the native utility asset of Decentraland – MANA – an ERC-20 Ethereum-based token utilized for purchasing wearable NFTs on the platform, claiming rewards, and accessing exclusive activities.
You can purchase MANA on Binance, Coinbase Exchange, Bybit, KuCoin, Gate.io, Bithumb, Huobi Global, FTX, Kraken, Coinone, Gemini, Bitfinex, Binance.US, Bittrex, etc.
#2 The Sandbox (SAND) – $1
Market Capitalization: $1.2 billion
Launching the Alpha in December 2021, The Sandbox (SAND) is the second-most valued Metaverse crypto project on the market, currently valued at over $1.2 billion, closely following ApeCoin (APE).
The Sandbox is a direct competitor to Decentraland. The primary difference is that The Sandbox doesn't feature an in-browser client and focuses on providing users with a higher-visual-quality experience with additional RPG aspects.
The Sandbox also incorporates the popular play-to-earn model into its experiences, but its Metaverse is currently in development, so users can't earn rewards just yet. However, while The Sandbox Metaverse is still developing, interested investors can explore the project's official OpenSea collection, buy plots of land, and start building their empires.
Like virtual real estate in Decentraland, the floor price for virtual property in The Sandbox is at an all-time low at 1.95 ETH (roughly $2k at writing).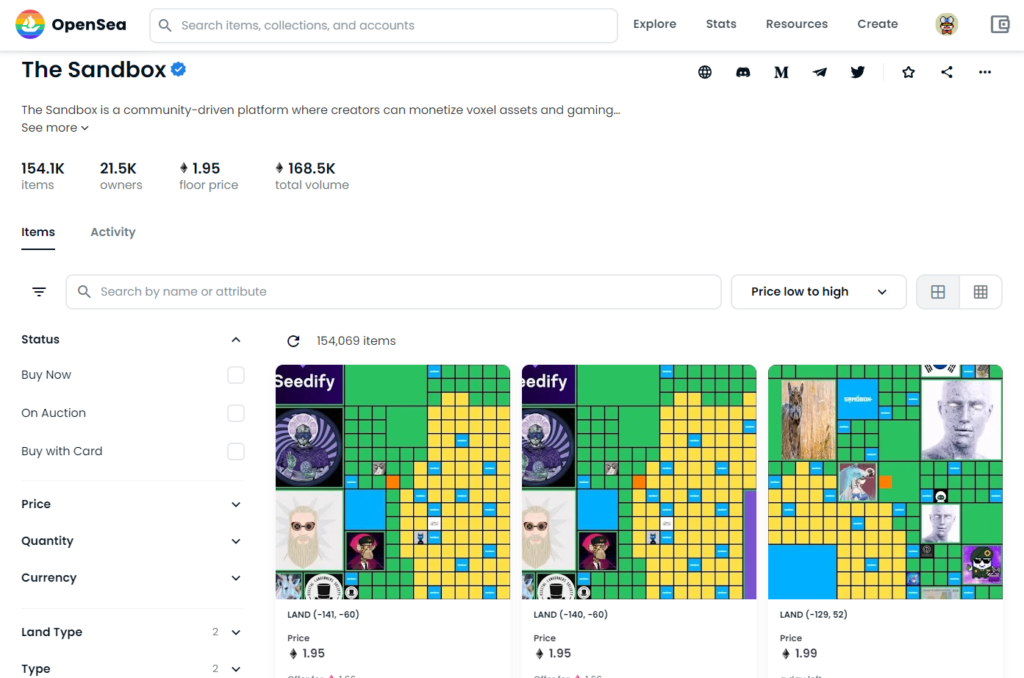 Compared to prices upwards of $10k only a few months ago, if you were on the fence about buying land in the Metaverse, now is your chance to snag a plot of land for dirt-cheap prices.
With a similar value proposition to Decentraland and one of the highest market capitalizations for Metaverse projects, The Sandbox has tremendous long-term potential and is a must-watch in June 2022.
Like Decentraland's MANA token, The Sandbox features its SAND ERC-20 asset, serving as the primary utility token for the project. SAND is utilized across The Sandbox's Metaverse and can be staked on the platform for rewards.
You can buy SAND on Binance, Huobi Global, Bithumb, KuCoin, FTX, Bybit, Gate.io, Coinone, Coinbase Exchange, Gemini, Uniswap (V2), Bittrex, Liquid, etc.

#1 Aavegotchi (GHST) – $1.3
Market Capitalization: $61 million
Initially launched in February 2021, Aavegotchi (GHST) is a highly underrated Metaverse crypto coin with an incredibly undervalued market capitalization at this time. As the name suggests, Aavegotchi is a play on the popular Tamagotchi pet toy gaining viral popularity in the early 2000s.
Aavegotchi as NFT-based creatures living on the Ethereum blockchain. Users can interact with these NFTs and develop a kinship score, which levels up the Aavegotchis and increases their attributes. In turn, that increases the value of each NFT, which could make for an exciting way to turn a profit.
One interesting fact about Aavegotchi NFTs is how well they've kept their value despite the current market conditions. The lowest price for an Aavegotchi NFT is currently at 419 GHST (roughly $648).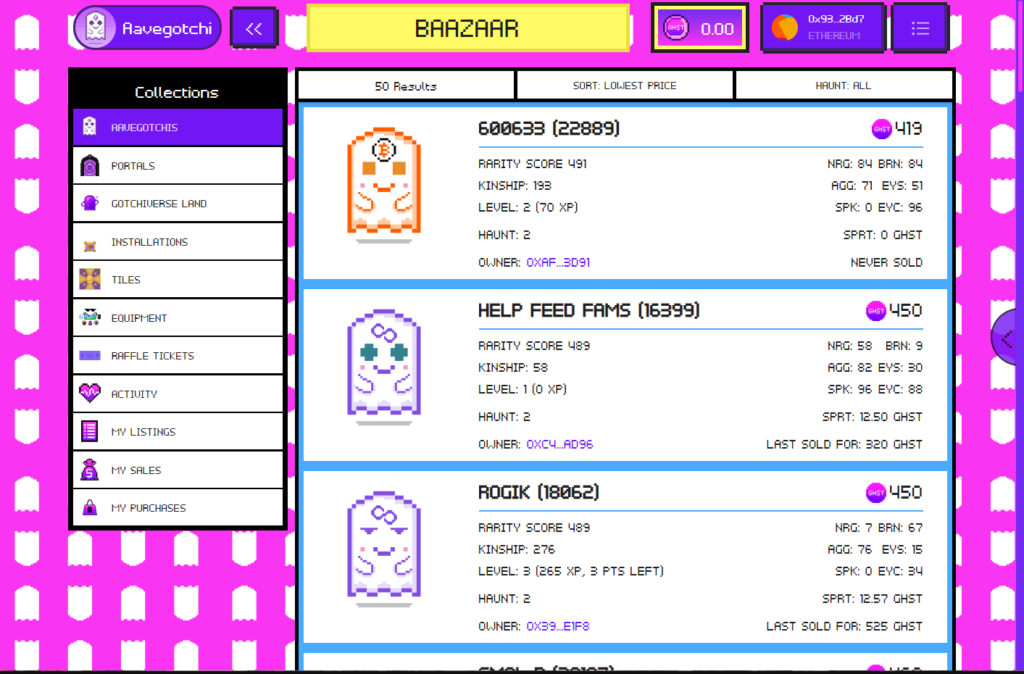 As Aavegotchi is a blockchain-based project, the virtual pet is immortalized forever, so your friend will never disappear, break, or be taken away from you as long as you keep your wallet and private keys safe.
Moreover, Aavegotchi has an option to purchase virtual real estate in its Metaverse in the form of parcels. The project's Metaverse is dubbed the Gotchiverse and enables users to buy parcels to start generating passive income and claim rewards in the Aavegotchi virtual world.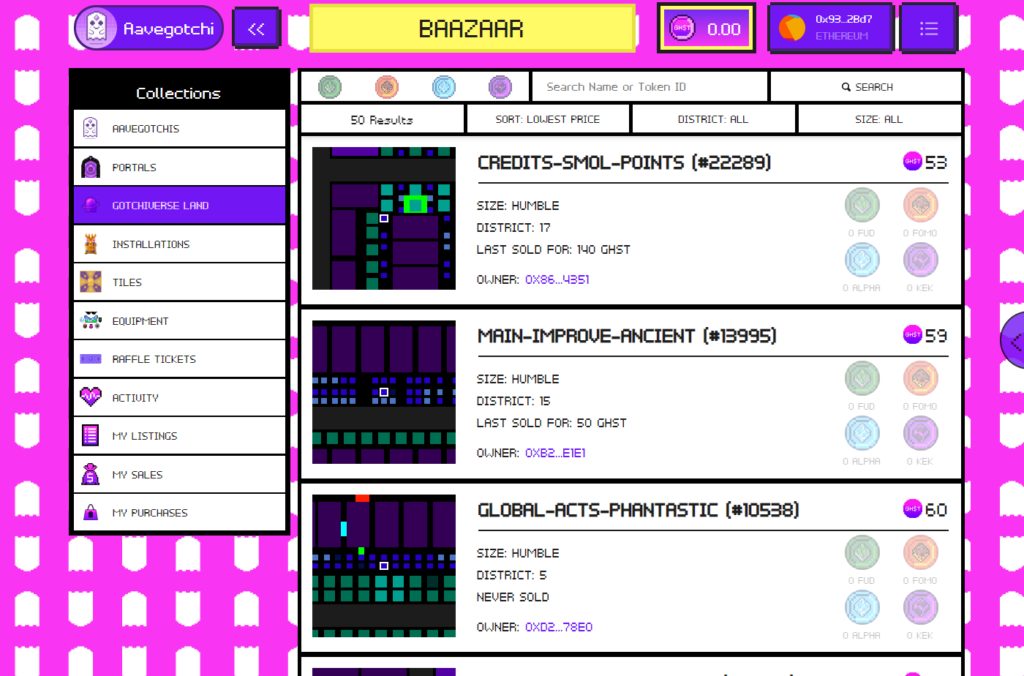 The good news is that plots of land in the Gotchiverse are much cheaper than the Aavegotchis. The lowest price for a plot of land is 53 GHST, roughly $60 at writing.
With a current market cap of $61 million and a robust NFTs and virtual real estate ecosystem, we recommend exploring the Aavegotchi dApp by connecting with your MetaMask wallet. Aavegotchi has tremendous long-term potential, and the project is a must-watch in June 2022.
GHST tokens are the primary utility asset for the Aavegotchi ecosystem, an ERC-20 asset living on the Ethereum blockchain. GHST tokens are utilized for buying virtual real estate, purchasing Aavegotchis, and interacting with all aspects of the Aavegotchi economy.

If you want to purchase GHST tokens, you can buy them on Huobi Global, Binance, Kraken, KuCoin, Gate.io, Poloniex, LBank, OKX, MEXC, IDEX, QuickSwap, CoinEx, Bitvavo, etc.
Disclosure: This is not trading or investment advice. Always do your research before buying any Metaverse crypto coins or investing in any virtual real estate.
Follow us on Twitter @nulltxnews to stay updated with the latest Crypto, NFT, AI, Cybersecurity, and Metaverse news!
Image Source: katisa/123RF
Gain a broader understanding of the crypto industry through informative reports, and engage in in-depth discussions with other like-minded authors and readers. You are welcome to join us in our growing Coinlive community:
https://t.me/CoinliveHQ