Bear market: is it a serious threat to cybersecurity tokens?
The first half of June 2022 brought numerous reasons for panic among crypto investors. The market capitalization of cryptocurrencies decreased by more than $400B dropping below $900B. The last time such a low market cap was observed in January 2021 but, unlike today, it was a period of rapid crypto growth (between November 2020 and February 2021, the crypto market cap quadrupled, jumping from$400B to $1.6T).
Cybersecurity tokens have also experienced serious shock due to the overall market decline. These projects have demonstrated different approaches to dealing with the downward trend. Is there any optimal behavior for cybersecurity projects during the bear market? Try to find the answer after reading the article.
Cybersecurity tokens: price dynamics
According to CoinMarketCap, the biggest Web 3.0 cybersecurity projects are Shentu Technology, Utrust, PolySwarm, Quantstamp, VIDT Datalink, LossLess, and Hacken. All these projects have experienced price drops since the beginning of May. On average, cybersecurity tokens dropped by 53% between 5 May and 20 June 2022. The sharpest drop has been experienced by LossLess (-71%) and the least affected token is Shentu Technology (-20%).
Tactics followed by projects during the bearish trend
Doing business as usual
Shentu Technology, VIDT Datalink
Shentu has not performed any active marketing campaigns or promotional activities aimed at boosting investors' interest in its token.
VIDT Datalink has not introduced any major updates and its marketing activities have followed traditional patterns for the last few months.
Product development and focus on token utility
Utrust, Lossless, Hacken
Utrust has left the Ethereum blockchain and joined the Elrond family. The company has also released new token features such as staking, metastaking, and metabonding. The project has focused its efforts on communicating to users the utility of its token and the product's competitive advantages. Namely, the project actively makes posts about companies accepting payments in UTK.
Lossless has launched staking on KuCoin with a 4M LSS pool and deployed its protocol on new chains such as Polygon and Avalanche.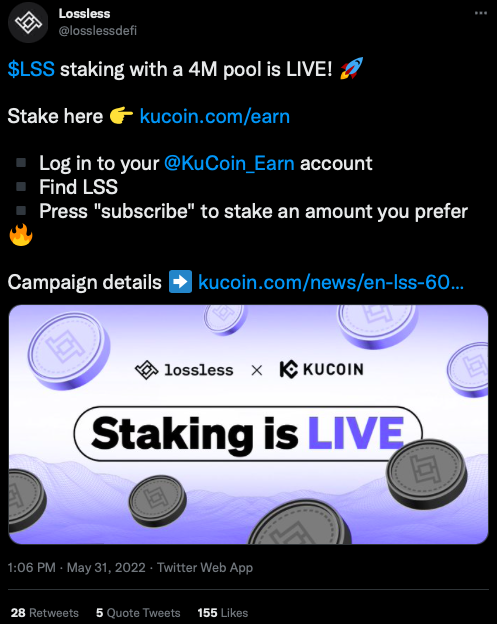 Hacken has introduced an alternative for stablecoins called ETD. It is the asset backed by auditors' time. ETD acts as the reservation of a smart contract audit by a company. Also, Hacken announced the release of a game-changing solution called HaaS (hacking-as-a-service). It is the professional cybersecurity software for automatic real-time monitoring of the cyber risks that may potentially affect the client's product.
Active marketing and communication with the community
PolySwarm, Quantstamp, LossLess, Hacken
PolySwarm has activated the rewards payment system. Everyone running the extension will get a reward from the daily pool of $1,337. The company also posted comments made by its core team members as well as updates regarding the functionality of its product.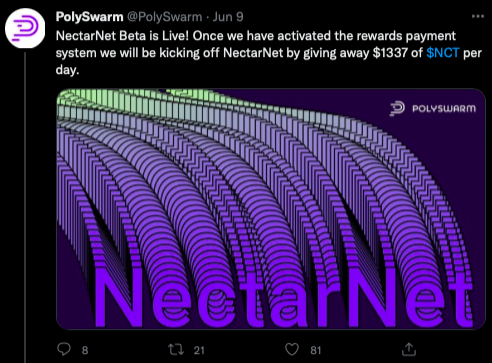 Quantstamp's core team has actively participated in industry events and meetups such as Blockchain Oracle Summit in Berlin and Consensus2022 in Austin. Quantstamp has made a strong focus on the NFT segment and regularly informed its community about new audits.
Lossless has been reassuring its community of the token's resistance to crypto winter. The project has also undergone a rebranding. The project's core team including the CEO, CTO, and CMO, has also remained in permanent contact with the community through live streamings and recorded videos.
Hacken team participated in Consensys 2022 and organized the traditional DeFi retreat for community members and other crypto and cybersecurity enthusiasts. Hacken has also regularly informed its community of all updates and corporate plans as well as organized AMA sessions with industry experts to keep users engaged. During the recent AMA, Hacken CEO Dyma Budorin discussed with the community the possibility of the release of the new long-term model of HAI staking that would be active until the next Bitcoin halving. The yearly income under this model would be around 15%. The release of this new model may mitigate the selling pressure on HAI.
Market interventions
Hacken
In June, Hacken CEO Dyma Budorin made a tweet stating that the company would allocate 25% of the revenues it got in the previous month for HAI buybacks.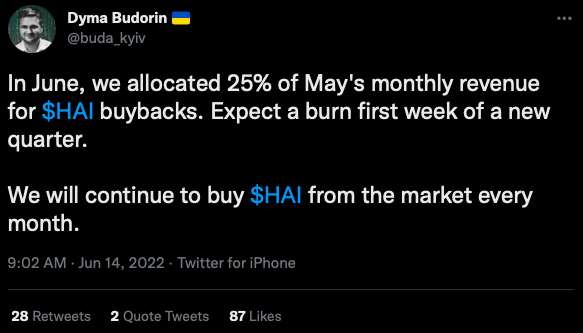 Thereby Hacken is going to address the problem of excessive token supply and, thus, mitigate the negative effects of the bearish trends on HAI token and eventually push its price up.
Overall, cybersecurity vendors have demonstrated different approaches to addressing the risks and challenges associated with crypto winter. Hacken, Utrust, and Lossless have focused on improving their existing products and developing new ones to add more functionality to their tokens and make them more attractive investment instruments in the eyes of users. Quantstamp and VIDT Datalink have focused on marketing activities and communication with the community. Also, projects have realized that they need to address the issues associated with big selling pressure. To this end, Lossless and PolySwarm have created new staking pools and Hacken has allocated its business revenue for token buybacks. Shentu Technology has continued doing business as usual. Thus, although vendors have applied different tactics aimed at leading with the effects of crypto winter, as of the middle of June, there is no cybersecurity token the price movement of which heavily deviates from the market tendency.
Image by Alexas_Fotos from Pixabay
Gain a broader understanding of the crypto industry through informative reports, and engage in in-depth discussions with other like-minded authors and readers. You are welcome to join us in our growing Coinlive community:
https://t.me/CoinliveHQ