A Scavenger Hunt Hackathon: Findora's Unique Approach at EthCC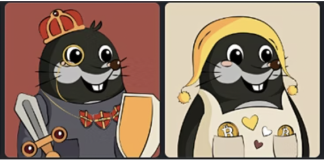 Hackers at crypto conventions expect dimly lit areas where they are chained to their computers. Findora has a different approach for EthCC in Paris: let hackers enjoy the City of Lights as they build.
Although anyone around the globe can compete to win over $5,000 in grand prizes, participants in Paris for EthCC will get even more.
Registrants will get a ZK Circuit Map with hand-picked cafés where they can hack. They will also get a treasure map of notable sites in Paris with riddles they must decrypt to win $500 USDT bonus prizes and exclusive NFTs Findora has minted called ZK Moles." Participants claim a mole by solving a riddle and discovering where they are hiding.
"We thought, 'it would be a shame to come to this city and not be able to see any of the sites,'" said Findora Business Development manager Dylan Kawalec. "So we asked, 'what can we do to give people the opportunity to walk around, enjoy this amazing city, and also hack? We didn't want to just do what everyone else does."
An Unexpected format for Europe's Largest Ethereum Gathering
Findora is used to doing things differently.
Typically, blockchains follow an account model (as Ethereum does) or a UTXO model (as Bitcoin does). Findora combines these models by parallelizing an EVM ledger with a UTXO ledger. Unlike other zero-knowledge projects, Findora is focused on more than just confidential transactions but also wants to act as a universal privacy oracle that can settle transactions.
While it remains to be seen how successful their new hackathon format will be, it will likely be appreciated by hackers, who rarely get rewarded for exploring the city they hack in. EthCC is Europe's largest annual Ethereum event, attracting developers, engineers, and projects worldwide.
"For this hackathon, we wanted to change things up a bit and let YOU, the hacker, have an enjoyable time in Paris while still being able to work on your project," reads Findora's official announcement on Eventbrite. "We want you to make the most of your time here since many of you who are attending ETHCC this year are traveling from abroad."
Maps will be handed out at the Maison de la Mutualité. Participants of the ZK Circuit Hackathon will also get brunch each day at EthCC. All projects must be an FRC-20 or FRC-721 project with privacy features in mind. Learn more about the event here.
About Findora
Findora scales Ethereum privacy with next-generation zero-knowledge proof technology. It is a leading privacy-preserving smart contract platform for Web3, giving developers the tools they need to build a new financial internet. Founded in 2017 and born out of next-generation cryptography research, Findora finally launched publicly in 2021 and is poised to use privacy to make DeFi a safe place for individuals and financial institutions.
Gain a broader understanding of the crypto industry through informative reports, and engage in in-depth discussions with other like-minded authors and readers. You are welcome to join us in our growing Coinlive community:
https://t.me/CoinliveHQ