Gate.io Cryptocurrency Exchange Review (2022)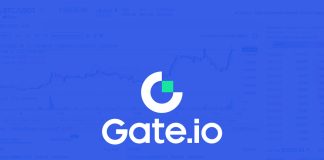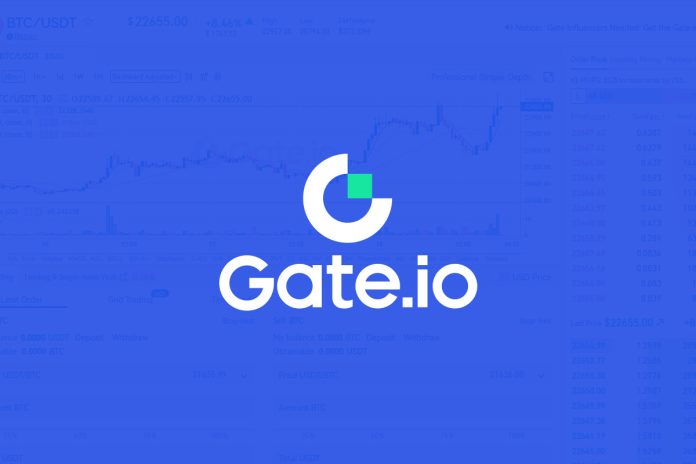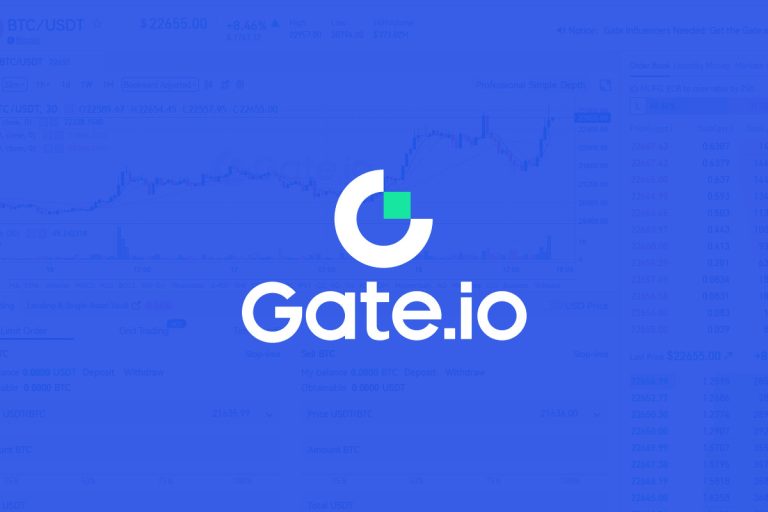 REVIEW OVERVIEW

Ease of use
Reliability
Reputation
Features

SUMMARY

Gate.io is a top-rated exchange that's extremely reliable and has an excellent reputation due to its long-standing in the crypto community. It's also easy to use as the UI is intuitive and provides plenty of features, including a robust NFT platform, several data dashboards, and much more. We recommend checking out the platform if you aren't part of the restricted regions.
One of the most popular cryptocurrency exchanges providing a trading pair for almost every cryptocurrency is none other than Gate.io. If you've been lurking in the crypto sphere looking at niche digital assets like Metaverse tokens, Web3 coins, Move-to-Earn projects, etc., you've probably noticed Gate.io somewhere near the top by trading volume. Today we're going to review the crypto exchange Gate.io from the point of view of an average trader looking for an easy way to buy/sell digital assets.
What Is Gate.io?
Gate.io is a centralized cryptocurrency exchange launched in 2013. It's one of the older crypto exchanges on the market and is based out of China. Unfortunately, as of July 2022, Gate.io doesn't support US-based users due to regulatory restrictions. However, the platform features a new exchange Gate.us, launched in March 2022, that will support US users.
The restricted countries and regions listed for Gate.io include Canada, the United States of America, China, Singapore, Malaysia, Malta, Bangladesh, Bolivia, Cuba, Iran, North Korea, Sudan, and Syria.
Gate.io's primary benefit as an exchange is its relatively high trading volume and wide selection of digital assets. If you're a crypto trader looking to trade niche cryptocurrencies and aren't a resident of any of the above-mentioned restricted regions, we recommend checking out Gate.io.
Gate.io Exchange Review
Registration for the Gate.io exchange is straightforward. Users can create an account via email or phone number. In addition, the exchange supports 1-click login via Gmail, making it even easier to sign up to the exchange.
At the time of writing this article, Gate.io features promotion of $100 at signup with hefty referral bonuses of up to 40% in discounts on trading fees for inviting friends and family. In addition, new users are eligible to receive a $30 bonus on their first cryptocurrency deposit on the exchange.
When it comes to Gate.io's website layout, it features an intuitive, easy-to-navigate UI, including a dark mode button, a search feature for cryptocurrencies, an option to choose several different languages, and a navigation menu with several options.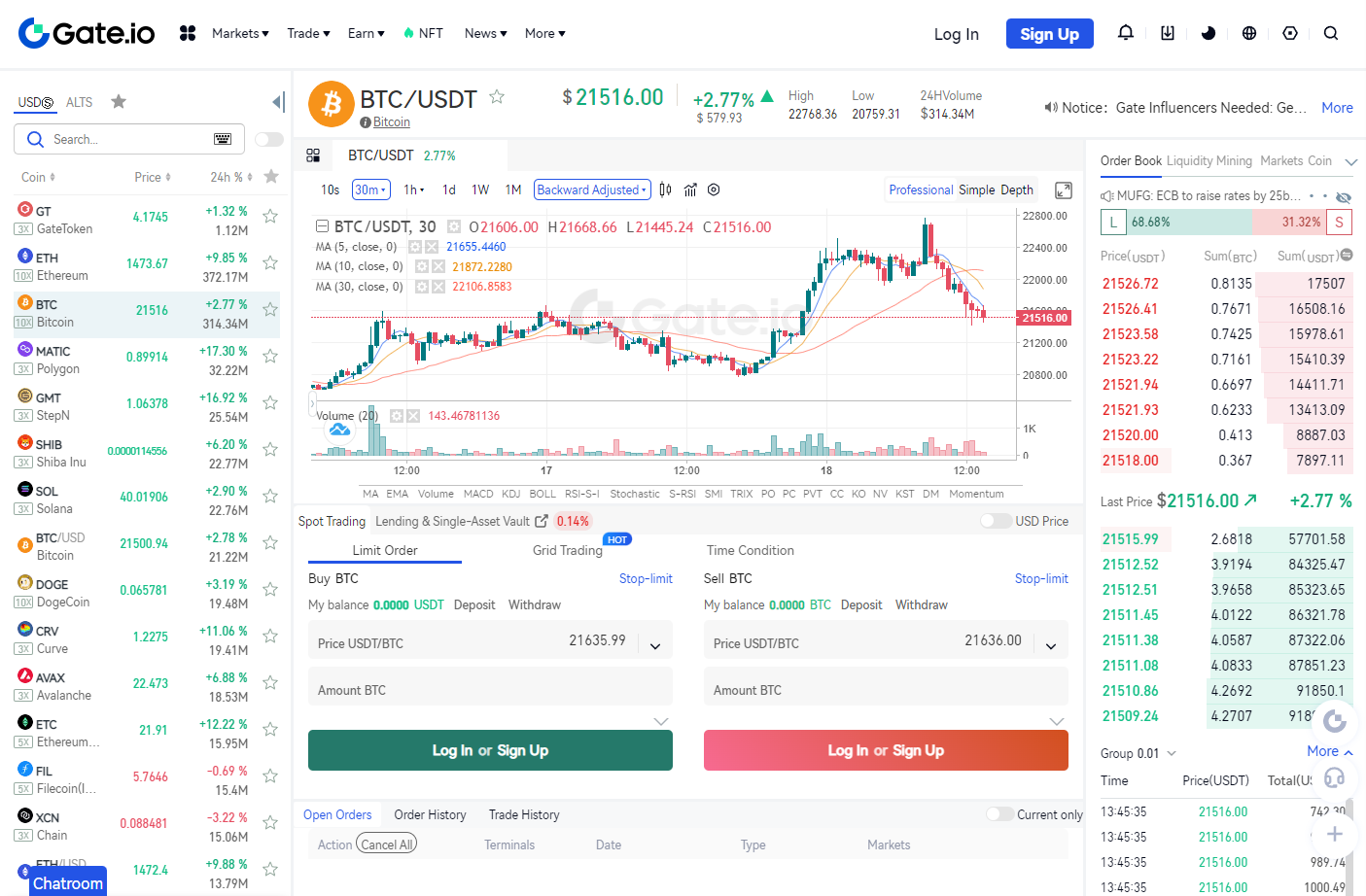 Some key features for Gate.io include:
Market Price – A cryptocurrency price list similar to popular crypto price trackers like CoinMarketCap and CoinGecko.
Market Tracker – A unique coins distribution chart showing price change and volume data for the past 24 hours.
Big Data – A crypto market data aggregator showing liquidation data, fear and greed index, contract positions, long-short ratio, and much more.
Spot Trading – A standard and professional spot trading UI similar to any other centralized exchange, complete with an order book updated every second.
Earn Section – Gate.io features several options for users to earn rewards via its platform, including Liquidity Mining, Lending & Single-Asset Vault, Cloud Mining, and Slot Auctions.
NFT Platform – Gate.io's unique NFT platform and marketplace with dozens of collections and hot drop sections. The platform also enables users to launch their collections on the platform, becoming Gate NFT certified creators.
News Section – A comprehensive news section including posts, live streams, chatrooms, a blog, and an official Gate.io podcast.
Gate.io also features several additional miscellaneous features such as Gate Grands, Institutional Services, VIP discounts, ETH2.0 Mining, Voting Activities, and much more.
Gate.io GateToken (GT)
Gate.io also features its native utility token GateToken (GT) for the Gatechain mainnet. Officially launching in March 2020, GT was distributed to Gate.io users as a gift. GateToken featured an initial supply of 1 billion tokens, with the exchange burning 0.7 billion tokens shortly after, leaving 0.3 billion in circulation.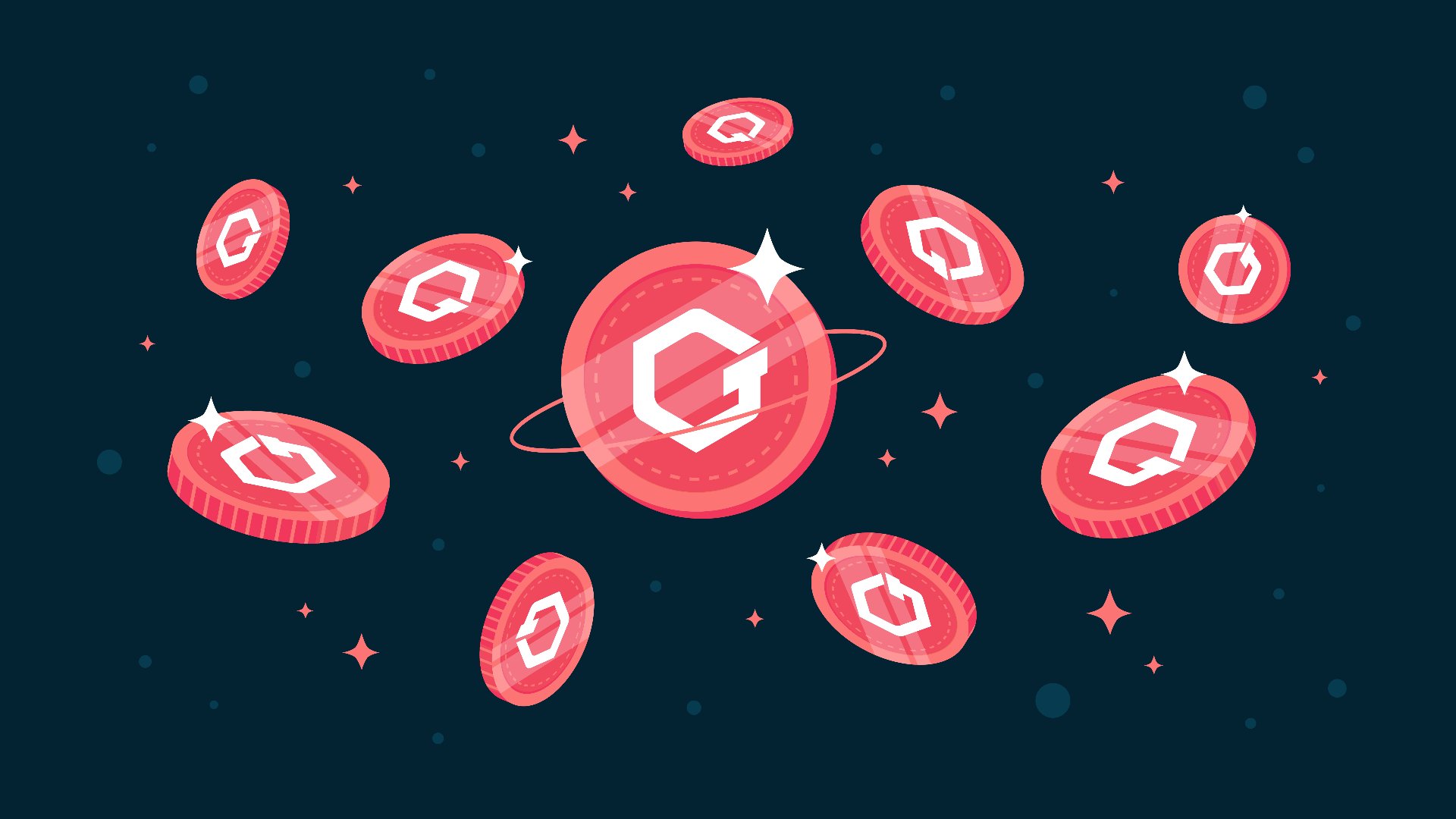 GT is an essential part of the Gate.io ecosystem, enabling users to participate in ICOs, receive discounts, vote on airdrops, earn various rewards, and much more.

At the time of writing this article, GateToken (GT) is trading at $4.28 with a market capitalization of $335 million. Its 24-hour trading volume is $1.7 million, with the top exchange trading the token Gate.io (unsurprisingly), followed by Huobi Global, Bitfinex, FTX, and LBank.
If you're looking to bet on the success of Gate.io, one way would be to purchase GT tokens, as their price directly correlates with the performance of the exchange. You could think of GateToken as the stock for Gate.io.
Final Thoughts
As one of the longest-running and most popular exchanges in the cryptocurrency market, you can't go wrong using the Gate.io crypto exchange if you're not in any of the restricted regions.
Gate.io offers a robust platform, and its data/analytics dashboard is useful for beginner and seasoned traders. Moreover, if you're looking to launch an NFT collection, we recommend checking out Gate.io's NFT platform and considering applying to become a verified Gate NFT creator to receive extra exposure for your collection.
In addition, Gate.io's affiliate program is highly lucrative and if you're looking for competitive rates for your affiliate efforts, consider signing up for their affiliate program.
Lastly, the various bonuses and rewards one can claim via the platform are worth checking out, especially the first deposit bonuses, which are essentially free money.
Gate.io remains a reputable exchange with some of the highest trading volume across a large selection of crypto assets and overall is a great exchange to check out if you're not a resident of any of the restricted regions. If you are in one of the restricted regions and are looking for a comparable platform, we recommend checking out NullTX's LBank Cryptocurrency Exchange Review for 2022.
Disclosure: This is not trading or investment advice. Always do your research before buying any cryptocurrency or using any crypto exchange.
Follow us on Twitter @nulltxnews to stay updated with the latest Crypto, NFT, AI, Cybersecurity, Distributed Computing, and Metaverse news!
Gain a broader understanding of the crypto industry through informative reports, and engage in in-depth discussions with other like-minded authors and readers. You are welcome to join us in our growing Coinlive community:
https://t.me/CoinliveHQ