The incredible exploit of WinnerBlock.io
You've probably heard of this growing company before. Winner Block has achieved the feat of releasing its decentralized gaming application in record time. In the space of a few months and with a successful pre-sale that managed to raise more than 1500 BNB, WinnerBlock managed to keep its promises and release its beta application on the day of the public launch of its token, the WBlock, on PancakeSwap on the 20th. July!
The will of this small talented team is limitless. Today, a project that keeps its promises is rare and we wanted to point this out.
About the WebApp
Winner Block provides players weekly jackpots and the jackpot distribution is unique. Here are the details – 70% of the funds go to the winners, but the platform also wants to make sure that holders are paid for their monthly tasks.
That's why 10% of the funds are given to holders, 10% goes to the team and 10% is reserved for charities.
The system is simple and effective. With your WBlocks, you can buy WCards, NFT tickets, where 4 numbers ranging from 0 to 49 are written. These four chosen numbers are written on your WCard and allow you to participate in the draws. Each WCard is unique!
There are 3 price ranges in WBlock for the weekly jackpot-tickets. Players will choose between three Wcards types: Bronze $2.5, Silver $5 and Gold $10.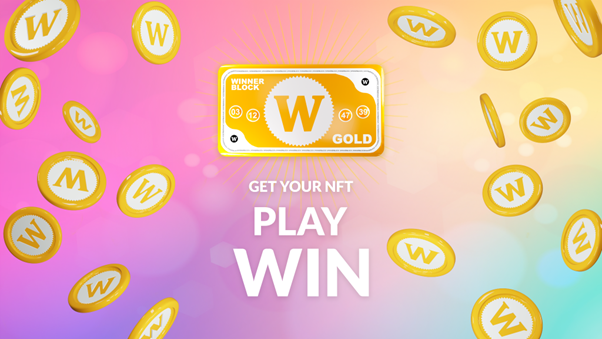 Apart from winning the big weekly jackpot, players can also win daily prizes! Don't worry, even if you have only 1 correct number you will still be able to win apart from the jackpot!
Yes, charity is one of the main values ​​of Winner Block. is also dedicated to supporting those in need and that is why the community have to vote and determine which charitable organizations will receive money.
Funds are transferred adequately and each organization that has a vote will receive its fair percentage.
At Winner Block, everyone's a winner!
About the future
Winner Block's ambition is simple. The team has lots of ideas for future updates to their app to always deliver fun and interesting new content for players.
Not convinced yet?
While waiting for the official release on July 20, you still have the possibility to try the application in beta version. Just go to WinnerBlock.io!
One thing is certain. With a reliable team that keeps its promises, growth is in store for Winner Block!
Information:
Winnerblock.io
t.me/winnerblock
Gain a broader understanding of the crypto industry through informative reports, and engage in in-depth discussions with other like-minded authors and readers. You are welcome to join us in our growing Coinlive community:
https://t.me/CoinliveHQ